RECOGNISING CONTRIBUTIONS TO BTP HISTORY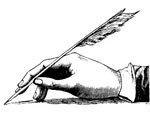 There have been a number of people who have made a significant and valuable contribution towards documenting BTP history, often over a period of years. The History Group believes it appropriate to recognise these contributions by conferring on them the informal title of "BTP History Writer". This is intended as a simple recognition of good work done.
Those currently recognised are:
William Owen Gay QPM MA
The first and so far only, Chief Constable to be appointed from within the force. He wrote copiously for the BTP Journal and Police Review, notably his Constable on the Track series and the documenting of railway murders. Also published the booklet Communications and Crime.
J.R. Whitbread
For his research and writing published as The Railway Policeman in 1961. Still regarded by many as a definitive work. (Yet we still do not know what his initials J.R. stood for). Formed a good relationship with the force and presented the Whitbread Shield to be awarded for meritorious police work. It has been awarded on and off ever since.
Kevin Gordon
A member of BTPHG, he has been carrying out research and documenting BTP history for more than 20 years. The Group has much to thank him for and has been building on a lot of good work he had already done. Individual pieces include papers on A History of Policing the Railways (2002), The Police Dog Pioneers (2003), A Time Line for Policing the Railways, and the Roll of Honour.
Phil Trendall
A member of BTPHG, he compiled the original Roll of Honour and researched and wrote an excellent paper on The Murder of Detective Sergeant Robert Kidd. He also corroborated with Kevin Gordon to produce much of the work done around the 1990s. (And as an aside, has been hugely influential in safeguarding the force historical archives both at Tadworth and at their current location.
Colin Thomas
LL.B, M.Phil.
A member of BTPHG, has concentrated more on the legal aspect of the force and produced a considerable treatise (bound) on the work of BTP. Assisted Kevin Gordon with some of his research. Still currently writes all the obituaries published in Retired Lines, under the name of Sandman.
Robert Butcher
A member of BTPHG, he wrote copiously for The Journal before it ceased publication and has carried out much research, including on the deaths of railway police during the Great War and the duties of the early railway policeman. He continues to write for the BTPHG newsletter History Lines and remains a great asset to the Group.
Viv Head
Passionate about history and in particular about transport policing in all its forms, Viv was instrumental in creating the BTP History Group and its rapid growth into a thriving community of retired and serving officers and police staff. He has penned articles and books on police history and in particular in relation to the policing of Cardiff Docks.
This is an on-going scheme and any further nominations will be considered. The scheme is managed by the Group's Trustees and President. Nominations should reflect substantial contributions towards documenting BTP history and can be made by any BTPHG member or retired BTP officer.
If you think there is someone who should be nominated please propose them by email to btpwriters@btphg.org.uk or by post to Paul Robb (see Members Directory).